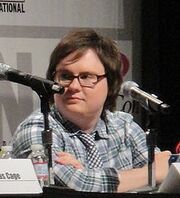 Clark Duke plays Thunk Crood in the Croods.
Life and Career
Clark Duke was born in Glenwood, Arkansas on May 5, 1985. He is an actor and has starred in many movies including Hot Tub Time Machine, Kick-Ass, and A Thousand Words. He has also preformed in the televsion series CSI: Crime Scene Investigation, Greek, The Office, and New Girl.
Trivia
Clark Duke was raised a Baptist.