We're Getting Mutants in the MCU - The Loop
Play Sound
"Still alive! And your still fat!" Gran to Grug
"Still alive!" Gran's catchphrase
Gran Stonewell

Name
Gran Stonewell
Gender
Female
Age
80
Family
Ugga (Daughter), Grug (Son-in-law), Eep (Granddaughter), Thunk (Grandson), Sandy (Granddaughter)
Gran Crood is the oldest of the Croods, the mother of Ugga Crood and the grandmother of Eep Crood, Thunk Crood, and Sandy Crood. She is the leader of the current generation of the Thunder Sisters, and also, the oldest.
Aliases
Gran is given several in Rain Gran:
Mother of Storm
Rider of Lightning
Master of Rain
Breaker of Wind
Background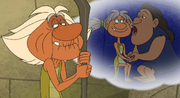 When Gran was younger, she dated a man named Smooth.
She was also in a relationship with Mow. It is revealed in My Big Fat Gran Wedding that she has many more exes.
It was revealed that she used to be a member of an old amazon-like tribe called the Thunder Sisters.
Summary
Grug's mother-in-law. Old as dirt. Some say 80. A great believer in natural selection, Gran does not discriminate in who is selected for what, especially if that means she is selected to eat. And yes, she has eaten another man before. There are often times when food is scarce for Croods as they have lived in a cave all their lives, at age 80, She is the eldest of the family.
Appearance
Gran is old and wears a white wig that is in fact a gliding squirel like creature appropriately dubbed 'Wigasus' but is otherwise bald (a bit more matted or disheveled), and a small tooth (which she can remove at will). She wears a reptile's skin which most likely belongs to a crocodile and wields a tall, twisted staff in her hand. She is the eldest of the Croods family. Her body is not disproportionate, but her arms and legs are incredibly slim; you can practically see her bones. Gran's nose is also incredibly huge; With a nose that is easily 10 times the size of your eyes, you can detect odors from miles away.
Relations
Gran doesn't get along with Grug and repeatedly makes fun of him. She sometimes says that he is ugly, dumb, stupid, etc... She is not happy when Ugga asks her to live with her family and neither is Grug.
Gran likes Sandy because they have a lot in common.
Pets
Black Wolf Spider
Quotes
Gallery