Jurassic World: Dominion Dominates Fandom Wikis - The Loop
Play Sound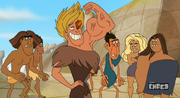 One-Eyed Amber[1] (usually just called Amber) is a character seen in the Netflix show Dawn Of the Croods. She is leader of the hunting pack, and the boss of Grug.
Appearance
She retracts her left eye and wears a rock there. In The Croo-gitive she mentions she's "gone through five rocks already" after being shown shattering one. She later refers to it as her "eye patch". She can actually see well without it, as shown in some episodes. In Mom Genes, it is revealed she only wears the eye patch because she thinks it goes well with her pelt.
Family
She has a daughter, Pat
Personality
Amber always refers to herself in third person. She is also aggressive, but a fair and well-meaning boss to the hunters.
References